The linky party that I shared with Carri from Simply Done Wright last week was awesome. We had some great recipes and projects linked up and met several new (to us) bloggers.
I hosted the "summer recipe" part of the party and was overwhelmed by the number of delicious recipes that were linked up. Just looking at some of the pictures of the classic summer foods made me so hungry. Then reading the recipes had me drooling. If you haven't had a chance to look at some of the great food that was linked up, then you can see them all here.
Here are a few recipes that I want to feature today.
As summer approaches, we think of firing up the grill and cooking steaks, barbeque ribs, hamburgers, hot dogs, etc. But not me. I don't like to eat red meat (gasp). I'm not a vegan or anything; I just don't like it that much. So when I saw this recipe that was shared at our party, I got excited. These Ranch Turkey Burgers were linked up by What's Cooking, Love? A wonderful alternative to the traditional beef burgers (and healthier too).
How about this for a side dish? A Watermelon Mint Salad? This was submitted by Look What Jeff Did and it hit my watermelon craving perfect.
I'm just going to skip right to dessert because you're going to love this one (like I did). Chocolate Nachos by Jenmi Jenmi. I could eat the whole plate (no kidding).
And what's summer without Popsicles? Rebecca at The Crafted Sparrow shared 15 Popsicle Recipes with us and I've been eating them ever since. You might even say that I have a popsicle addiction.
I want to thank everyone that linked up to our party. Everything was amazing and we appreciate that you shared your talents with us. Carri from Simply Done Wright also wrote a post featuring some more talented bloggers. Click here to check it out. If your recipe was featured, please take a "I was featured" button below to display on your blog.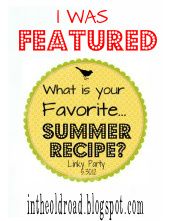 Also, don't forget that tomorrow we will expand our linky party to include 5 bloggers! Carri and I will join with three more bloggers to share one big linky party. That means if you link up your recipe or project with one of us, it will be shown on all 5 blogs! We are going to do this every Wednesday. We are so excited to bring this to you...the

All Star Block Party

.
Let's celebrate the best part of blogging...sharing...with an old fashioned block party. See you there!